Interested in transforming your performance then increasing your level of self awareness is key. One option is to use the Spotlight personality profiling tool. Designed with performance in mind, Spotlight has been developed by the team at Mindflick using the science of psychology and a wealth of experience of elite sport.
How does it work? Spotlight enables us to understand both 'Behavioural Style' and 'Mindset', the combination of both giving us our 'Performance Preferences'. Spotlight can be used by anyone who is interested in getting the best out of themselves and other people.
Spotlight is about understanding your preferences, how you respond when there is something to be won or lost, and about recognising where you can get to with a shift in mindset. Spotlight can be used in a team setting or for individuals. If you are interested in gaining your own individual Spotlight profile or discussing a Spotlight team workshop get in touch at clare@appliedpotential.co.uk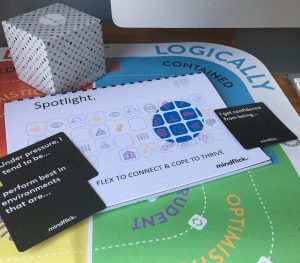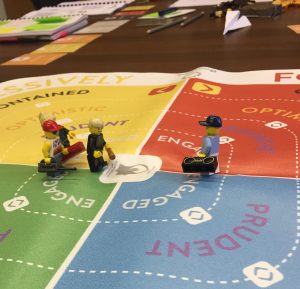 Using a combination of workshops, coaching, and personal development, Spotlight can be used by organisations to embed a new way of thinking about performance and people.
Clients begin by completing the simple and intuitive online questionnaire – a quick, 15 minute process. The in-depth Spotlight reports are then generated along with corresponding team maps.
It's often best to bring together a whole team, or group of individuals to experience a Spotlight workshop – ranging anywhere from 2-hours to 2-days. During the workshop individuals explore the models, understand their own and their team's preferences, and coach one another in how to FLEX and COPE.
Following a workshop, we recommend that each Spotlight profile is also individually debriefed. This really brings the learning to life for the individual, helping them connect with other more effectively, and thrive in their roles.