SpotlightDYNAMICS builds on the breakthroughs from Spotlight profiles and captures the performance and development needs of a whole team.
Focussed on a series of key areas, SpotlightDYNAMICS identifies the specific factors that can strategically take a team from 'Good' to 'Great'.
Building on Spotlight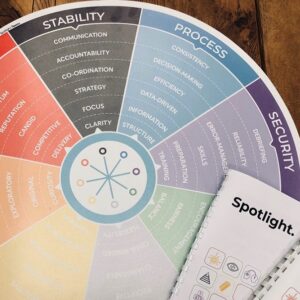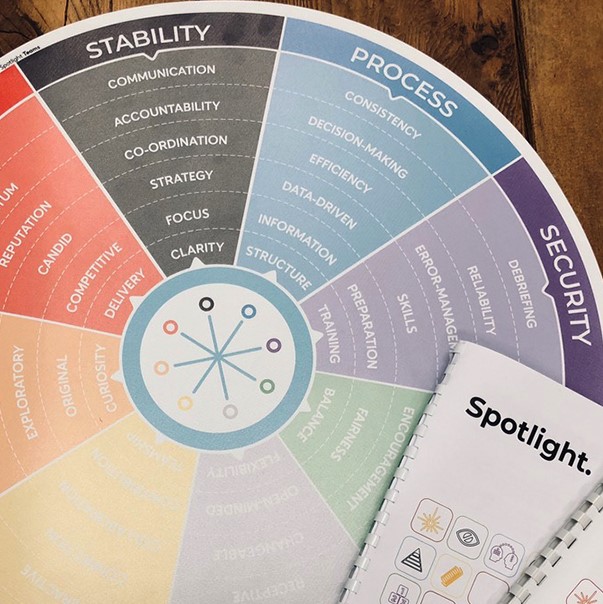 Focussed at an individual level, Spotlight builds the adaptability of individuals within a team. Once a team has completed Spotlight and explored how to grow each individual's ability to FLEX and COPE across a range of contexts, they can turn their focus onto the performance of the team as a whole.
SpotlightDYNAMICS has been designed to allow leaders and team members to identify the specific areas of development that will bring the greatest benefits.
Research shows high performing teams adopt a process of self evaluation and re-evaluation over time. Team members openly discuss how to improve the team's performance and agree aligned action plans – a process which is key to team success in a changing landscape.
In a changing landscape, any team development strategy needs to adapt through time. Assessment and adaptability go hand in hand, with regular reassessment playing a key part in developing the processes behind the team performance.
Team Performance
SpotlightDYNAMICS captures the shared perception of psychological safety within a team. SpotlightDYNAMICS then identifies specific areas to explore in order to build greater psychological safety, which in turn fosters greater team learning and performance.
Research conducted by Mindflick shows that alongside developing these enabling conditions, high performing teams grow what can often appear to be a series of opposing dynamics, including:
• Building high levels of challenge, combined with high levels of support;
• Fostering a sense of stability and clarity, paired within adaptability and agility;
• Developing effective processes, whilst maintaining an openness to possibilities;
• Encouraging risk-taking whilst ensuring a sense of security;
In growing these dynamics, teams develop a greater sense of cohesion and engagement, driving high levels of performance in dynamic environments.
STEP PROCESS
Spotlight
Individual Spotlight debrief
SpotlightDYNAMICS report
Development plan